I.SAFE MOBILE DEVICE MANAGEMENT WITH ANDROID ZERO-TOUCH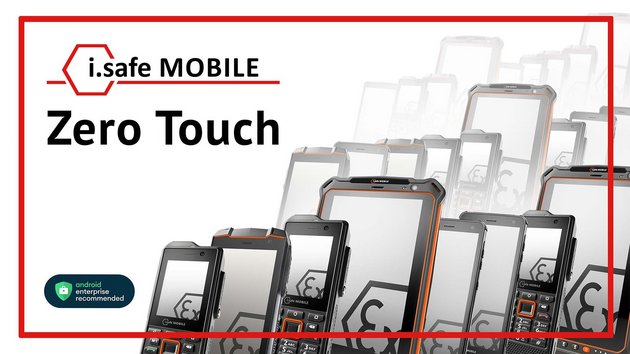 i.safe MOBILE customers receive a fast, secure and process-efficient concept for the highest enterprise requirements for explosion-proof mobile devices through the Google partner programme "Android Enterprise Recommended". In addition to security patches, bug fixes and major system upgrades for at least five years, Android zero-touch as part of the "Android Enterprise Recommended" concept guarantees the possibility of a fast and secure commissioning of the mobile devices. Zero-touch and the global Ex-certifications of the devices even allow any number of devices to be deployed simultaneously on a global level, with out-of-the-box and pre-configured apps and security features. Staff switch on the device and can use it immediately without any further settings.
Zero-touch enrollment of Android devices is a fast, simple and secure way to mobilize employees. With zero-touch, devices can be deployed at scale with the apps and security they need. This automated deployment reduces dependency on internal IT support, while accelerated device delivery and simplified activation processes create a better user experience. Zero-touch creates a win-win situation for employees and IT teams. Both are relieved of workloads, resulting in an overall increase in productivity.
Please find more detailed information at the Android zero-touch data sheet below.
Downloads