MOBILE ANDROID SOLUTION FOR CONFIGURING AND SETTING THE PARAMETERS OF HART FIELD DEVICES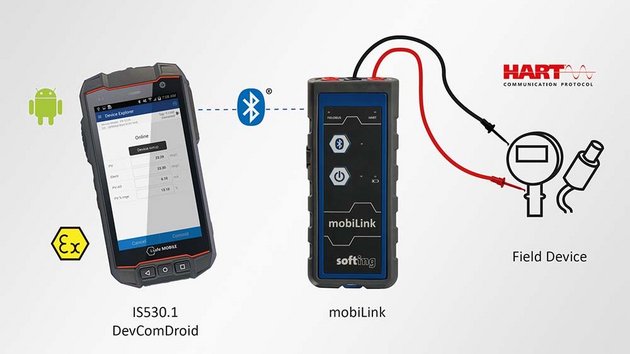 The combination of Softing's mobiLink interface, i.safe MOBILE's Android tablets and smartphones and ProComSol's DevComDroid App for mobile field devices has been successfully tested as a solution for simple and safe configuration and parameter setting of HART field devices also for hazardous areas. The bundle is available from i.safe MOBILE.
i.safe MOBILE GmbH, based in Lauda-Koenigshofen, Germany, has more than 10 years of experience in the development of equipment for use in explosion hazardous areas and is one of the most innovative and well-established specialists in the market. All i.safe MOBILE products are certified for safe use in hazardous areas (ATEX, IECEx, CSA, EAC, etc.) and are suitable for robust use in industry and outdoors. ProComSol Ltd, based in Lakewood, USA, is a leader in the development and manufacture of HART communication products for the process industry.
Thomas Rummel, Senior Vice President Engineering & Product Management at Softing Industrial: "Our companies have complementary skills. A partnership will bring many benefits to the HART market. Our mobiLink simplifies mobile access to field devices for plant operators, system integrators, device developers and other users in the process industry. Together with the certified tablets and smartphones from i.safe MOBILE for use in hazardous areas and the DevComDroid app from ProComSol, we now have a cost-effective and easy-to-use complete solution for Android applications."
Martin Haaf, CEO i.safe MOBILE: "The mobiLink interface in combination with our IS930.1 tablet and IS530.1 smartphone and ProComSol's DD-based apps is a powerful offering for our customers. We are pleased about this expansion of our portfolio of first-class communication solutions for process automation."