Limited sales promotion for IS120.1 / IS120.2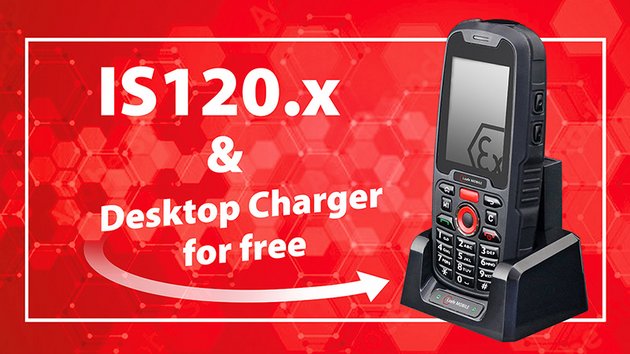 With every order of 10 units or more of the explosion-proof 4G key telephone IS120.1 (for zone 1/21) or IS120.2 (for zone 2/22), the customer will receive one desktop charger per telephone free of charge.
The IS120.1 or IS120.2 is an extremely robust and compact mobile phone and focuses on the essential functions such as telephony and messaging (SMS). The mobile device features the latest Smart PA speaker technology and effective noise-cancelling, which enables hands-free talking easy even in noisy industrial environments. Its lightweight (214 g), compact (140 x 63 x 26 mm) design and non-slip surface texture ensure that it fits securely in the hand. With its exchangeable, powerful battery (2200 mAh), the device can also be used in multi-shift operation. The mobile phone is Bluetooth 5 compatible and additional accessories include a leather case, a belt clip and a spare battery.
The additional desktop charger, that is part of this special offer comes with a second charging slot for spare battery.