IS530.1: A high-performance, Ex-protected multifunctional industry-smartphone for zone 1/21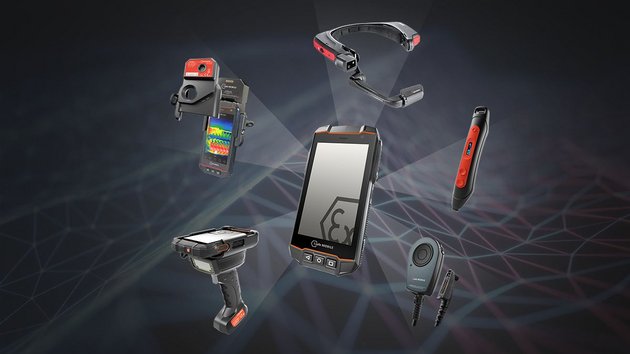 The smartphone is Android Enterprise Recommended, zero-touch capable and MDM compatible. It offers users a wide range of applications in industrial hazardous areas through the secure and fast connection of additional devices such as the IS-TC1A.1 thermal camera, the IS-TH1xx.1 high-performance barcode scanner, the IS-MP.1 RFID/NFC multipen and the IS-RSMG2.1 PTT remote speaker microphone.
In order to be able to flexibly record thermal images and videos in hazardous areas while on the move, i.safe MOBILE has developed the thermal imaging camera IS-TC1A.1 as an ad-on to the IS530.1. The device is plugged onto the smartphone, connected via the ISM interface and enables measurements from - 40 °C to 330 °C in seconds. The image or video is then displayed on the smartphone and can be sent directly from there and further processed for documentation.
Two further peripheral devices of the IS530.1 are used in particular in the explosion-hazardous logistics process: With the IS-THxx.1 trigger handle, barcodes can be read, and with the IS.MP.1 handheld reader, RFID/NFC tags can be scanned even in hard-to-reach places and to forward and process them immediately via the IS530.1 smartphone. The IS-THxx.1 is a high-performance barcode scanner that captures any 1D or 2D barcode at close range up to 6 meters or distances over 15 meters using Zebra's reliable OEM imager scan engines. The smartphone plugs into the top of the trigger handle and the two devices connect via the ISM interface. The multipen IS-MP.1 is an RFID/NFC reader that can transmit the captured tags with different frequency range combinations directly to the smartphone via Bluetooth. Alternatively, the data can initially be captured with the pen only and read out later via USB.
With the IS530.1 and IS-RSMG2.1 set, industrial users can take advantage of push-to-talk communication in Zone 1/21 hazardous and very noisy work areas. The wired, remote speaker microphone connects to the smartphone via the interface and features a robust and lightweight housing and very good audio quality.