International sales meeting and 10th anniversary celebration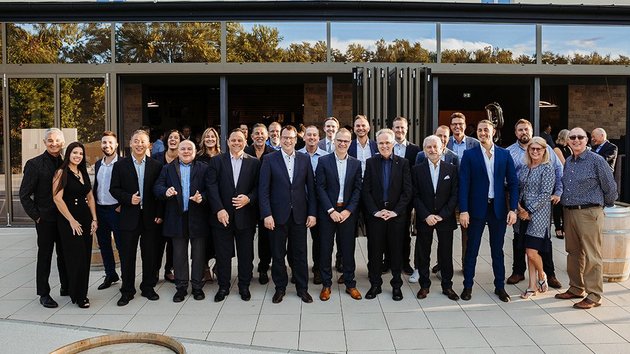 Due to the pandemic, the celebration for the 10 year company anniversary took place one year later than planned, together with the international sales meeting of i.safe MOBILE. The management (CEO Martin Haaf, CTO Dirk Amann and CFO Ludwig Fleckenstein), employees and partners of the innovation leader for explosion-proof mobile devices and solutions from Lauda-Koenigshofen look back on a decade of innovations and milestones. As in previous years, the focus at i.safe MOBILE continues to be on innovation and growth.
The agenda was extensive: First the numerous international partners from all regions of the world (from the USA, Abu Dhabi, China, Singapore and other European countries) received a review of the last 10 successful years of the company during their 3-day visit to i.safe MOBILE's headquarters, followed by updates of the existing product range, development innovations such as the future 5G mobile devices for the ex-area and the expansion strategy of the company.
Personal exchange in a casual setting was not neglected either: the guests were offered an exciting social programme, such as a visit to the Bad Mergentheim Wildlife Park and other team events in the beautiful region Tauber Valley.
Finally, the big anniversary event took place on Friday, 16 September. After a festive champagne reception with management, staff and partners, followed by a dinner, hosts and guests enjoyed live music to round off the eventful week in a lively atmosphere - dancing until late in the evening. An all-round successful anniversary event!
Martin Haaf, co-founder and CEO of i.safe MOBILE, comments on the company's anniversary: " As a global innovation driver for communication solutions in the ex-market, we and our customers have extremely high quality standards for our products and services. Together with our worldwide partners, we offer our customers safe, reliable, high-quality and sustainable communication devices and solutions. Our competent and dedicated team of employees and our successful partner network is our greatest competitive advantage. We have set ourselves high goals for the next decade and expect ongoing strong growth in all business areas worldwide in the coming years."
"i.safe MOBILE is the partner that we set as an example of how to do things right. Transparency, trust, attitude and great parties… It is an honor and a pride to be part of this team, of the i.safe Mobile family."
Belsati Sistemas, Spain
"Exloc are 10 years old this year too and we have been working with i.safe MOBILE for most of this time. The partnership with i.safe MOBILE has been a big part of our success. i.safe MOBILE products continue to expand and improve year on year and the future looks bright for both of us. The party was tremendous and the organisation was very detailed, thanks to everyone involved in pulling this together. It was great to meet many of the i.safe MOBILE team for the first time and also many of their other global partners.
Exloc Instruments, UK
"We had a great time! We really appreciate that you guys included us in the celebrations. It was great to spend time with you all and the other sales partners."
Exloc Instruments US
"Extremely delighted to celebrate i.safe MOBILE's 10th year anniversary with the entire team, and we are so proud to be part of this impressive success story."
Autochim Systems