i.safe MOBILE is on course for growth - expansion is planned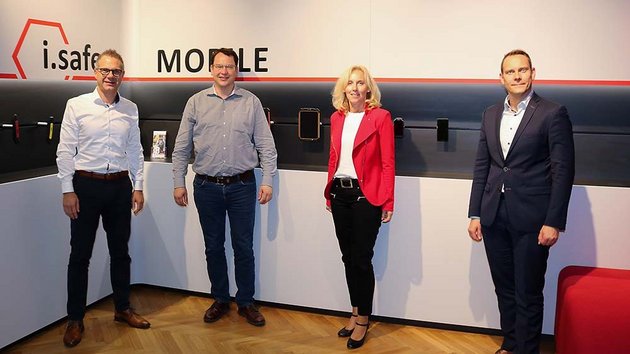 The two managing directors Dirk Amann and Martin Haaf gave an overview of the still relatively young company history and the company's products. The company's success story began in 2011 with a four-person founding team. Around 70 employees work for the company, which is headquartered in the "i_Park Tauberfranken" in Lauda. With subsidiaries in Singapore and Moscow as well as sales partners in 72 countries and eleven international service centres, i.safe MOBILE GmbH is represented globally. "We offer high-quality, resistant mobile phones, smartphones and tablets that ensure the secure exchange and provision of information in a wide range of industrial sectors," explained Managing Director Haaf. Customers include the largest corporations in oil and gas production, the chemical, pharmaceutical and food industries, mining companies, construction firms and airports.
Despite the Corona crisis, the company scores with its innovative products. The existing space capacities are exhausted due to the continuous growth. For this reason, plans for an expansion of the company have been started. The management's goal is to start construction in autumn 2022.
During a tour, Ursula Mühleck, head of the district development department at the Main-Tauber district council, and head of department Rico Neubert gained a good insight into the production processes. It also became clear that the company urgently needs more space.
Other topics of the exchange were labour recruitment and broadband supply in the district. From 2023, the company will again offer commercial and technical training in order to build up its own junior staff. The declared goal of the company and the Main-Tauber-Kreis Economic Development Organisation is to keep young people in the region and to offer them good career prospects. The cooperation between schools and companies must be further cultivated so that young people build up a bond. "We support the efforts to keep young people and are happy about such innovative companies as i.safe MOBILE GmbH," said Ursula Mühleck, head of department. Finally, she thanked the visitors for their insight and offered to support the implementation of the planned expansion.
Information on the Main-Tauber-Kreis Economic Development Organisation is available from the Main-Tauber-Kreis District Office, Economic Development, Gartenstraße 1, 97941 Tauberbischofsheim, telephone 09341/82-5809 and e-mail wirtschaftsfoerderung@main-tauber-kreis.de, or on the internet at www.main-tauber-kreis.de/wirtschaft.
Media contact: Main-Tauber-Kreis District Office, Office of the District Administrator, Gartenstraße 1, 97941 Tauberbischofsheim, telephone 09341/82-5612, fax 09341/82-5690, pressestelle@main-tauber-kreis.de