Explosion-proof mobile devices and MCPTT solution T.Flex Smart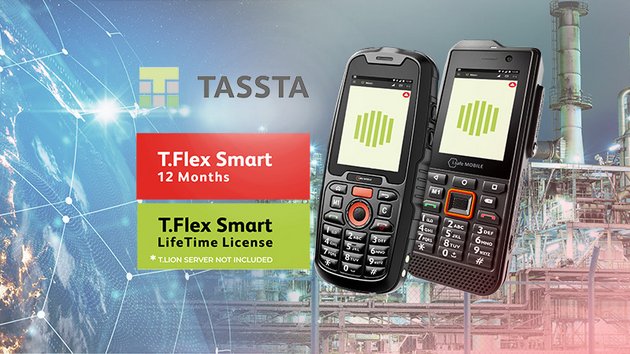 Customers can choose from two different bundle models - in each case the selected device with an annual licence of T.Flex Smart as SaaS (Software as a Service) or as a so-called lifetime licence (without SLAs). TASSTA's professional MCPTT solution meets all mission-critical communication, organisation and security requirements.
Mobile phones from i.safe MOBILE
IS330.1
The ATEX/IECEx certified mobile phone IS330.1 is ideal for MCPTT communication due to its large PTT button and the possibility to connect an RSM or PTT headset via ISM interface. The device runs on Android™ 10, has an SOS button, a powerful loudspeaker and is Dual-Nano-SIM compatible. The powerful 4050 mAh battery is replaceable and can be charged via a desktop or multicharger.
IS120.1
The IS120.1 is an ATEX/IECEx certified, rugged and compact mobile phone with a focus on PTT telephony and messaging. The powerful speaker with Smart PA technology assures PTT communication even in noisy environments. The replaceable, powerful battery also enables use in long multi-shift operation. Additional accessories such as a belt clip and a leather pouch protect the unit and make it ready to hand when in use.
SOFTWARE from TASSTA
TASSTA T.Flex Smart
TASSTA's T.Flex Smart application is a professional MCPTT solution that meets all communication, organisation and security requirements. T.Flex Smart runs over IP networks (e.g. 2G/3G/4G/WiFi) on iOS or Android smartphones and tablets, as well as on Microsoft Windows desktop PCs.
The TASSTA solution complies with key security and alarm/emergency standards:
T.Flex is FirstNet USA certified
T.Flex LWP has passed the German DGUV test and received the globally recognised GS certification, which is equivalent to the UK's BS 8484.
TASSTA's apps meet all Apple and Google safety demands and are available on the Play Store and App Store.
The following two licensing options are selectable for the current bundle offer:
Option 1:
With option 1, the customer receives a 12-month software licence of T.Flex Smart in addition to the mobile device. The use of the TASSTA Cloud Server and the SaaS (Software as a Service) model are included without any additional charges. The main features of this mobile device and software bundle are mission-critical push-to-talk functions such as group calls, individual calls, broadcast calls, zone calls, multi-listening, alerting, emergency calls and full GPS localisation with on-map communication, messaging and data transfer. Other functions of the TASSTA software suite, such as certified lone worker protection, push-to-video, task management or indoor localisation can be integrated and additionally booked on request.
Option 2:
The second bundle option is for customers who wish to use an on-premise server, such as customers who already use the TASSTA T.Lion server. With this bundle, users receive the mobile device together with a lifetime licence of T.Flex Smart. With T.Flex Smart TASSTA features such as certified lone worker protection, push-to-video, task management, indoor location can be added. This licence does not include SLA or required installation costs.
If you have any questions, please do not hesitate to contact your i.safe MOBILE contact person.