Android™ 13 update announced for the third quarter of 2023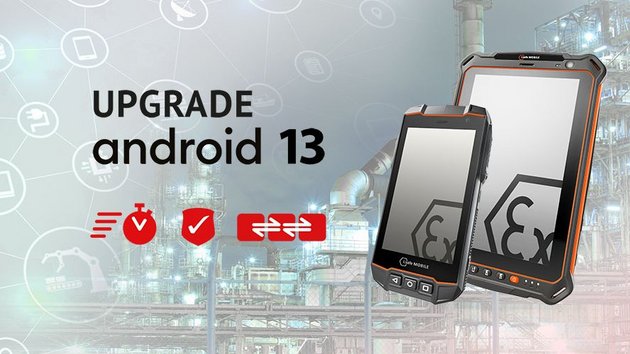 i.safe MOBILE is proud to announce that their IS530.x smartphone and IS930.x tablet series will continue to be available in the product portfolio and can be updated from Android 10 to Android 13 starting in third quarter of 2023. Qualcomm Technologies, Inc. assisted in the upgrading of the Qualcomm® SDM660 System-on-Chip (SoC) devices to the latest Android version.
i.safe MOBILE GmbH is innovation and world market leader for explosion-proof mobile devices and solutions. i.safe MOBILE is based in Lauda-Koenigshofen (Germany) and one of the most innovative developers of mobile communication devices such as mobile phones, smartphones and tablets for safe use in hazardous areas. Engineers and specialists develop practical products and customer-specific software solutions based on legal regulations such as ATEX, IECEx and NEC 500.
Not only the IS930.x tablet series, but also the IS530.x smartphone series will soon be available with ANDROID 13. The update option is provided free of charge and can thus be requested and downloaded remotely from all connected devices at any time.
Our industrial smartphone IS530.1 combines the important ATEX and IECEx standards for explosion protection with high performance and communication requirements for use in networked industries. Automation, industry 4.0 and the Internet of Things (IoT) constantly present users of industrial communication devices with new challenges that can be easily mastered with the smart and innovative IS530.1: Equipped with Bluetooth® 5.0, a multifunctional ISM interface, huge internal 64 GB memory and the highest camera resolution in its class (13 MP main camera and 5 MP front camera), it enables users to deploy it without any difficulties in critical environments. The smartphone IS530.1 from i.safe MOBILE is ATEX and IECEx certified for zone 1/21 and can therefore also be used in potentially explosive areas. The device is also available for zone 2/22 as IS530.2. Under its i.safe MOBILE brand, the company has developed an extremely robust device for use in harsh industrial environments in non-hazardous areas. This rugged version is available under the name IS530.RG.
A high working speed is one important requirement in industrial environments. This is enabled by the powerful Qualcomm SDM660 SoC inside the IS530.x and IS930.x series devices and a large internal memory capacity of 64 GB (expandable to 128 GB via microSD) and a 4 GB RAM. To act even more flexible, secure and adjusted to customers' requirements, updating to Android 13 provides more features and improved security. Some of the new Android 13 features are customizable applications, improved privacy controls and cross-device features, enhanced audio features, new media controls, pre-application language preferences for fluid moving between languages.
All new devices of the IS530.x smartphone and IS930.x tablet series will be shipped with Android 13 from the third quarter of 2023. "We are glad to announce that the Android 13 version will be soon available to our customers. With this new software update, we meet the requirements of our customers who constantly asked for high-level communication devices with state-of-the-art software features", summarizes Martin Haaf, CEO of i.safe MOBILE.
Android is a trademark of Google LLC.
Qualcomm is a trademark or registered trademark of Qualcomm incorporated.
Qualcomm branded products are products of Qualcomm Technologies, Inc. and/or its subsidiaries. Qualcomm patented technologies are licensed by Qualcomm Incorporated.