SAFE AND FAST WITH ANDROID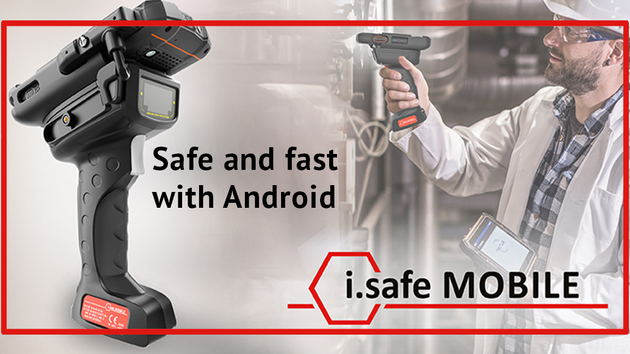 Active, unsecured handhelds represent a high security risk for countless companies due to expired security updates for Windows Embedded.
The risk of malware attacks and zero-day exploits (i.e. exploiting the existing vulnerability and penetrating computer systems) have increased dramatically in recent years due to the large number of devices used in companies and remotely.
The Android Enterprise Recommended mobile devices from i.safe MOBILE receive regular security updates and patches, making them ideal for mobile corporate use - even in remote operation.
The new Android-based bundle solution of high-performance scanner and industrial smartphone for ex-use enables i.safe MOBILE customers to reliably and quickly capture data via the IS-TH1 and process it immediately with the IS530.x.
Using Zebra's market-leading OEM imager scan engines, the fast IS-TH1 captures 1D and 2D barcodes at close range up to 6 metres (IS-TH1MR.1 version) and even up to a distance of more than 15 metres (IS-TH1ER.1 version). The Trigger Handle is connected to the smartphone through a 13-pin interface. The high-performance smartphone processes the data generated by the scanner at top speed. The handheld barcode scanner connected to the smartphone requires neither Bluetooth nor a separate battery. The device bundle is available for Ex zones 1, 2, mining and industrial areas.
The changeover from Windows-Embedded-based handhelds to i.safe MOBILE devices is possible without any problems. Our sales team would be pleased to advise you!