RUGGEAR AND I.SAFE MOBILE WORK TOGETHER ON NEXT GENERATION MOBILE PHONES FOR MISSION CRITICAL APPLICATIONS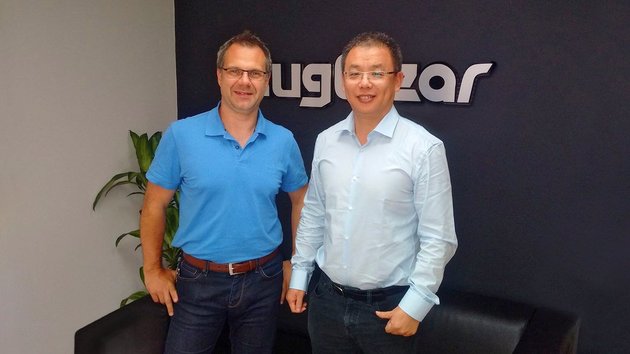 The cooperation agreement, signed in early 2020 by Maverick Chen, founder and president of RugGear, and Martin Haaf, CEO of i.safe MOBILE GmbH and CEO of RugGear GmbH, provides that i.safe MOBILE's engineers and developers will design and develop RugGear's rugged phones at the company's headquarters in Lauda-Koenigshofen. Production takes place in RugGear's own factory in Shenzhen.
Together, the two manufacturers are world leaders in covering the three most important areas of application for the professional use of mobile devices:
Mobile devices for PTT (Push-to-Talk)/POC (Push-to-Talk-over-Cellular) and Mission Critical
Complete solutions, for example for the areas of MDM (Mobile Device Management), PTT, and MCPTT (in cooperation with software partners)
Mobile devices for hazardous areas of zones 1/21 and 2/22 (intrinsically safe devices).
RugGear's high-end devices support all types of mobile voice and data communication, LTE/private LTE, eMBMS (evolved Multimedia Broadcast Multicast Service) and especially the Mission Critical application Push-to-Talk-over-Cellular (POC or PTToC), which is increasingly replacing traditional PTT solutions. RugGear mobile devices are suitable for a wide range of industrial and outdoor applications and comply with the most important standards (IP67/68/69, MIL-STD-810G/H, waterproof, shockproof, dustproof, etc.).
PoC as Mission Critical application
One of the most important unique selling points of RugGear is the consistent support of Push-to-talk over Cellular (PTToC, PoC or just PTT for short) across almost all device classes. This is a standard for mobile phones that describes fast and easy voice communication for groups in mobile phone networks based on the analog radio principle. This service enables a voice message to be sent to one or more recipients via mobile phone with just one keystroke.
With the replacement of standardized, proprietary trunked radio services such as iDEN and TETRA, the demand for PoC-enabled mobile devices is growing massively. The target group for PoC are public authorities, companies and security services that want to reach their field staff in a fast and uncomplicated way.
"By working closely with i.safe MOBILE, RugGear is in a unique position to offer private LTE-enabled devices for secure communications, especially for the critical communications sector," said Maverick Chen, founder and president of RugGear. "Target customers here are primarily the safety-critical government sector, the military, police, fire brigade, transport, rescue services and network operators."
"Due to their excellent protection against falls, dust, scratches, liquids of all kinds and extreme temperatures, the high-end mobile devices from RugGear are ideal for professional users in industrial sectors such as manufacturing, oil and gas, transport and logistics, food industry, facility management and construction," explains Martin Haaf, CEO of i.safe MOBILE GmbH. "We are pleased to use i.safe MOBILE's expertise to make RugGear's rugged mobile devices the first choice for enterprise users, as they can replace multiple devices (camera, scanner, radio) with a single multifunctional mobile device".
RugGear devices are designed to support digitization within the framework of Industry 4.0 projects and are particularly suitable for the intelligent networking of machines and processes in industry. RugGear products feature a powerful battery, extra-rugged protection, powerful speakers, PTT (push-to-talk) and LWP (lone worker protection) capability. Even in the most remote locations, the rugged mobile devices are always available for use thanks to support for 4G connectivity, WiFi and essential industrial applications like PTT, POC, SOS and LWP.