PARTNERSHIP IN MOBILE DEVICE MANAGEMENT (MDM) BETWEEN SCALEFUSION AND I.SAFE MOBILE TO SUPPORT FIELD OPERATIONS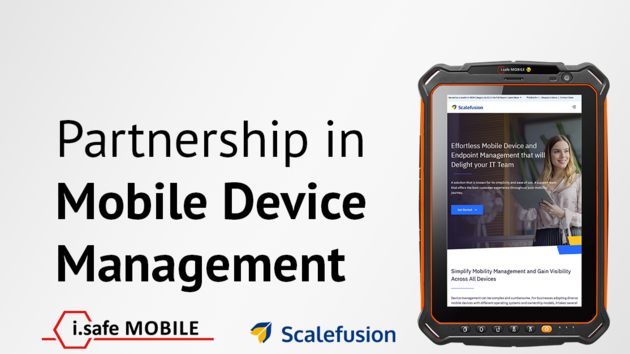 The tight integration with Scalefusion enables the support teams to extend step-by-step troubleshooting instructions over VoIP calls, sync files and seamlessly create context-aware support tickets. This process abates the complexity of troubleshooting on-field devices and helps in effectively slashing device downtime.
Along with Remote Troubleshooting, Scalefusion will aid i.safe MOBILE customers in personalizing the UI of their device screens, resonate client branding and streamlining automated compliance and security checks to keep device sanity in check.
"We are proud to have such a strong partner in mobile device management at our side with Scalefusion and looking forward to a successful partnership. With the Scalefusion solution, we support i.safe MOBILE customers in personalizing the user interface of their device screens and in automated compliance and security checks.", said Martin Haaf, CEO of i.safe MOBILE.
"We are looking forward to packaging a comprehensive solution with the partnership between Scalefusion and i.safe MOBILE, dedicated for robust, on-field operations. We are enthusiastic to see how several of our features are going to be incredibly handy to accelerate i.safe MOBILE customers operations with added security, giving the customers a complete stack perfect for field use", said Harishanker Kannan, the Co-Founder and CEO of ProMobi Technologies.