i.safe MOBILE supports regional associations with annual Christmas donation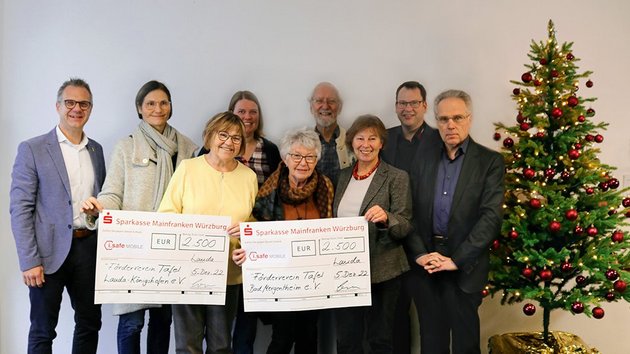 The company from Lauda-Koenigshofen is donating 2,500 euros each to the "Bad Mergentheimer Tafel" support association and the "Lauda-Koenigshofer Tafel" support association. The management of i.safe MOBILE GmbH presented both cheques to the association chairpersons at a meeting on 5 December, the International Volunteer Day. During the presentation of the donations at i.safe MOBILE's headquarters, the guests gave an overview of the current situation in the food banks, which is very tense due to crises.
Without the 60,000 voluntary helpers of the 960 "Tafeln" / food banks in Germany, many people would go hungry. The association rescue food and products of daily use and provide for more than 1.6 million needy people in Germany. Especially in the current crisis with sharply increased energy and food costs and a rising number of Ukrainian refugees in need of help, the customer base of the Tafel shops in the Tauberkreis has more than doubled since April this year.
Martin Haaf, CEO of i.safe MOBILE: "As a local company, social commitment in the region is very important to us. We are pleased to support the Tafel in their important mission through our Christmas donation this year and to be able to help people in need, especially now in the run-up to Christmas."
Katrin Beuschlein, area manager at the Tafelladen Lauda, reports an increased willingness to donate among the population, but also fewer deliveries from the food markets and thus less goods available to the shops. "The food banks in the region have fought hard for the subsidies they have been receiving from municipalities and the district since 2021. In addition to the private and corporate donations that the support associations collect, these grants make the work of the food banks possible at all," said Christine Lurz (Chairwoman of Tafelladen Lauda). Following the presentation of the cheque, Veronika Kluge (Chairwoman of the Bad Mergentheimer Tafel support association) expressed her delight: "We from the support association see the donation as a special appreciation for the voluntary work of the Tafel and would like to thank the company i.safe MOBILE very much".