I.SAFE MOBILE LAUNCHES MULTIFUNCTIONAL HANDHELD BARCODE SCANNER WITH INTEGRATED SMARTPHONE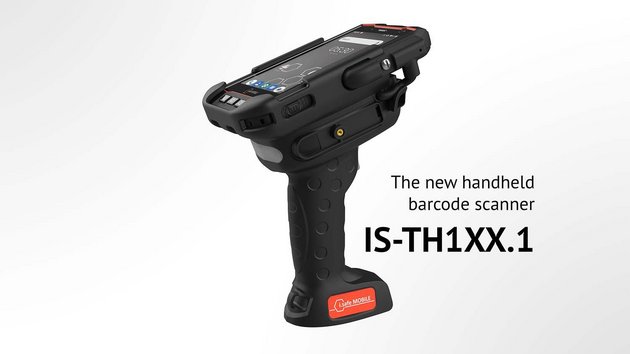 The IS-TH1XX.1 handheld barcode scanner becomes a multi-function mobile device when combined with the IS530.x. To use the handheld barcode scanner, it must be connected to the smartphone and, through this connection, requires neither Bluetooth nor a separate battery. Power and data are generated by the IS530.x with 13-pin ISM interface (connection option for RSM, PTT headset, among others) as if via a mobile computer and processed at top speed. Thanks to the HID factory setting, the captured 1D/2D barcode is immediately recognised and processed as a keyboard input. Target industries include oil, petrochemical, pharmaceutical and food industries, as well as mining, utilities, municipalities and energy providers.
State-of-the-art data acquisition and processing
Connected to the IS530.x, almost any 1D or 2D barcode can be scanned from close range to over 15 m away, even under the most difficult conditions - just by pressing the trigger. This highly intelligent scanner can even scan shrink-wrapped, dirty, uncleanly printed or pick-list codes, as well as extremely distant barcodes in high-bay racking. It has an additional LED display, loudspeakers and a vibration alarm. Optional accessories include a desktop charging station, programming cable and a practical holster.
Multifunctional set with easy handling
The IS-TH1XX.1 is - In combination with the IS530.x - more than just a scanner. It is versatile, easy to use and replaces more than two devices. In no time at all, you click your smartphone into the handheld barcode scanner and securely connect the two devices via the ISM interface (the connection cable is permanently attached to the handheld barcode scanner), which are then immediately ready for use. In addition to the wide range of scanning and data processing options, the functional 13-pin ISM interface allows, among others, passive remote speaker microphones (RSM) or PTT headsets to be connected to the smartphone. A replaceable battery in the IS530.x also makes the set suitable for continuous use across shifts. The IS530.x is Android Enterprise Recommended and also scores with regular security updates, support or seamless management options, it has a fast SOS function for emergencies and the highest audio quality (dual microphone incl. noise cancelling, 105 db speaker). The smartphone enables FOTA updates, offers double security through seamless A/B updates, and especially larger, distributed teams benefit from contactless, company-wide full configuration and control of all corporate devices through Zero Touch.
The IS-TH1XX.1 is available in two different versions: The IS-TH1MR with Zebra SE4750 MR for ranges up to 6m and the IS-TH1ER with Zebra SE4850 ER for ranges above 15m. In addition, both variants of the new handheld barcode scanner from i.safe MOBILE are ATEX/IECEX certified for Ex Zone 1/21, Zone 2/22 and Mining and are available with the Rugged version for rugged, non-Ex industrial areas.