INITIATIVE: SAVING LIVES IN AN EMERGENCY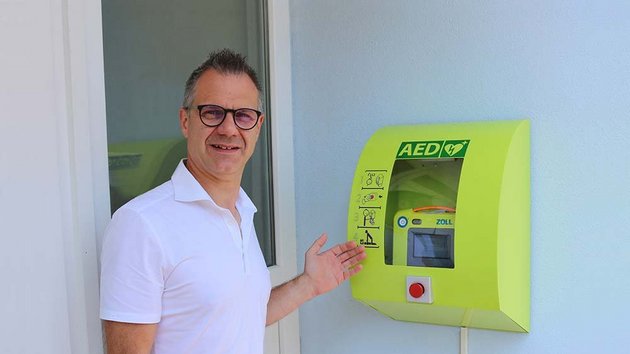 and has assumed the acquisition costs for an Automated External Defibrillator (AED) at the company's headquarters in i_PARK Tauberfranken. The defibrillator (shock generator) is housed in a so-called Emergency Box - an intelligent, digital monitoring system for the AED - which is accessible to the public and can be easily operated by anyone as a first aider by means of remote instructions.
What is a defibrillator?
A defibrillator is a medical device used for defibrillation and, if necessary, cardioversion. By means of targeted electric shocks, cardiac arrhythmias such as ventricular fibrillation or atrial fibrillation can be terminated if applied quickly in an emergency. The devices are provided in the professional medical field, in the rescue service and, as an automated version, increasingly also in buildings and areas accessible to the public for use by medical laypersons as first aiders. If a shock is delivered by a defibrillator (AED) within the first 5 minutes of ventricular fibrillation, the chances of survival are over 75%. A defibrillator improves the chances of successful cardiopulmonary resuscitation, but cannot replace it completely.
Project "Saving lives in an emergency"
The local project "Saving lives in an emergency" was launched in 2020 by the Lauda-Koenigshofen municipality and the community foundation. The aim of the initiative was to equip all districts with Automated External Defibrillators (AEDs). So far, a total of 11 devices have been put into operation in the region. The devices, which are stored in weatherproof boxes, were financed by generous donations from companies such as i.safe MOBILE, organisations such as the Lions and Rotary Club, private individuals and also the town of Lauda-Koenigshofen.
Martin Haaf, CEO of i.safe MOBILE comments: "Our social and community engagement is an integral part of our corporate social responsibility concept. We are pleased to have expanded the network of publicly accessible emergency defibrillators by donating the AED at i_PARK Tauberfranken."